Gout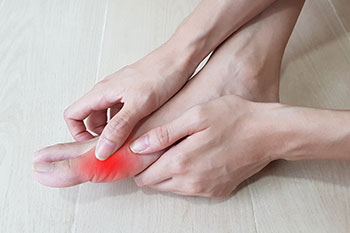 Gout, typically found in diabetic patients, is an unusually painful form of arthritis caused by elevated levels of uric acid in the bloodstream. The condition typically strikes the metatarsal phalangeal joint on the big toe; though it has been known to strike the knees, elbows, fingers, ankles and wrists-generally anywhere that has a functioning, moving joint.
The high level of uric acid in a person's bloodstream creates the condition known as hyperuricema-the main cause of gout. Genetic predisposition occurs in nine out of ten sufferers and the children of parents who suffer gout will have a two in ten chance of developing the condition as well.
This form of arthritis, again noted as being particularly painful, is the leftover uric acid crystallizing in the blood stream and travel to the space between joints where they rub causing agonizing friction when the patient moves. Symptoms include: pain, redness, swelling, and inflammation. Tertiary side effects may include fatigue and fever though reports of these effects are very rare. Some patients have reported that, as the temperature drops (when you sleep for instance) the pain may intensify.