Dr. James Donovan Memorial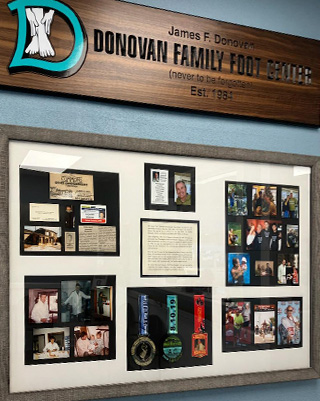 Dr. James "Jim" Donovan III, beloved Toms River, NJ podiatrist, died peacefully at home on May 2nd, 2021 after a brief battle with pancreatic cancer. He was 64. Jim is survived by his wife Diane, his children Kenneth, Jennifer, and Matthew, and many other family and friends.
After completing a B.S. from Villanova University in 1979, Dr. Donovan graduated from Philadelphia School of Podiatric Medicine in 1983. Soon after, he moved to Toms River, NJ where he opened this podiatry practice in 1984. As only the third podiatrist on staff at Community Medical Center, he was a trailblazer in his field that now includes over 40 active staff podiatrists.
Over the last 35 years, Dr. Jim Donovan has been a fixture in the Toms River, NJ community. He has treated over 60,000 patients, performed over 2,000 surgeries and was in private practice up until 2021. However, he was most passionate about treating sports medicine injuries, having been an ardent runner with 3 marathons and 1 half triathlon under his belt.
Dr. James Donovan's legacy in the field of podiatry will carry on with his eldest son, Dr. Kenneth Donovan, while his "footprint" left here at the office is maintained by his youngest son, Matthew Donovan. In addition, the James F. Donovan DPM Memorial Scholarship fund as been established in order to provider scholarships for incoming first year Temple University Podiatry students, to those that excelled in undergraduate athletics and demonstrate need of financial assistance.